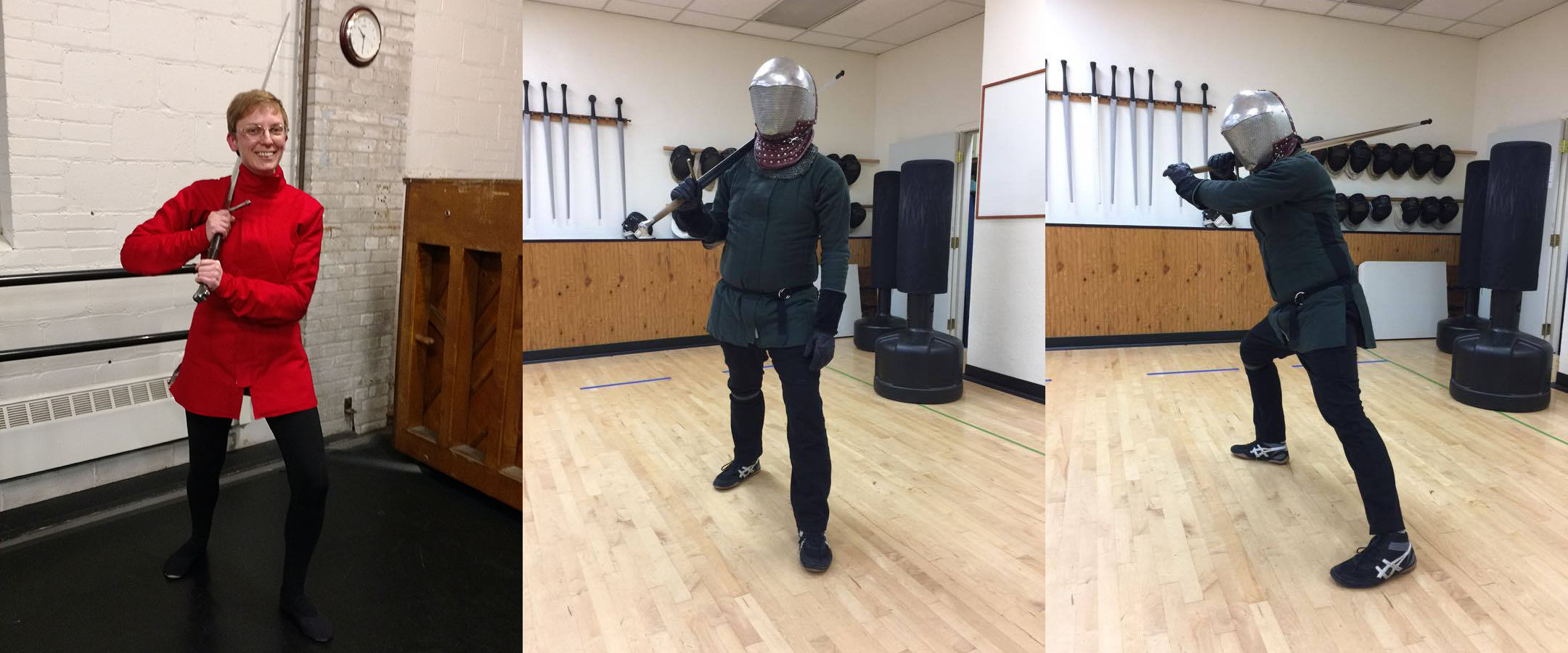 Padded Jackets for Western Martial Arts.
I make custom gambesons for practitioners of Historical Fencing in various degrees of padding and historical authenticity. In order to purchase your gambeson, please fill in the form at the bottom of the page and you will be contacted for sizing information etc.
Disclaimer: Fighting jackets are meant to be worn by trained practitioners. They offer some padding but are not guaranteed to protect you against injury. Handmade Revolution and its affiliates take no responsibility for injuries sustained while wearing our jackets.
BASIC MODEL: For light play. Two layers of heavy canvas. Closes with a zipper, velcro at each cuff. No padding. Price: $300
MODERN SPARRING GAMBESON: the front and arms are padded and quilted with 1/2 inch polyester batting. Closes with a zipper and has a velcro flap to protect zipper from damage. Cuffs close with velcro. No padding in the back. Gambeson is constructed from heavy cotton canvas and lined with cotton. $420 with polyester padding, $460 with cotton padding.
Note: polyester batting offers more cushioning and is less expensive than cotton.
Gambesons can be washed cold and hung to dry,
ARMING DOUBLET: Two layers of heavy linen with no padding. Suitable for holding up leg harnesses and going under armour. Basic version has all machine finishing, except for hand done grommets for front closure and leg harness support, along with buttons on sleeves. $400
FULLY PADDED MEDIEVAL GAMBESON: 2 layers of heavy linen as an outer, with heavy internal polyester or cotton batting, and a linen lining, Garment is fully quilted by machine. Can be made with grommet closure or button closure. Button closure at cuffs. Suitable for safe unarmored sparring. Each channel is padded to be about an inch thick. $900 with polyester batting, $1000 with cotton batting.
Gambeson outer layer can also be in wool. This, may effect the price.
Gambesons are made by hand in a non-industrial setting so there will be small imperfections and unique elements in each gambeson.